By Mary Casey-Baker

<p> Mary Casey-Baker is the editor of Foreign Policy's Middle East Daily Brief, as well as the assistant director of public affairs at the Project on Middle East Political Science and assistant editor of The Monkey Cage blog for the Washington Post. </p>

, Tom Kutsch
Turnout is high as Egyptians vote in second day of elections
Voter turnout has exceeded expectations as Egyptians participate in the second day of historic parliamentary elections. Head of the High Judicial Elections Commission, Abdel Moez Ibrahim said, "We were surprised that people turned out to vote in large numbers, thank God." Despite concerns that polling would be met with violence after the preceding week's severe clashes and protests, there were no reports of major violence as voters came out en masse on Monday. Meanwhile the number of protesters in Tahrir diminished to a few hundred. The results for the three-phased elections will be released after their completion on January 11, 2012. The country's Islamist parties are expected to do well, with initial polls showing favorably for the Muslim Brotherhood's Freedom and Justice Party. 
Headlines  
Daily Snapshot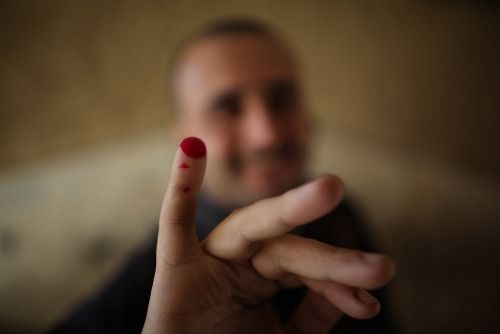 CAIRO, EGYPT – NOVEMBER 29: A voter shows off his inked finger, proof of voting, at a polling station in Old Cairo on the second day of voting on November 29, 2011 in Cairo, Egypt. Eleven months after the fall of Hosni Mubarak 45 million Egyptians are voting in the first round of six for it's upper and lower houses of parliament. The complicated process will take four months to conclude. Presidential elections are expected to be held in 2012 (Peter Macdiarmid/Getty Images). 
Arguments & Analysis
'In bleak Cairo, a call for optimism' (Wael Ghonim, International Herald Tribune)
"Egyptians have many demands. We want the military to quickly present a timetable for a complete transfer of power to civil authorities elected by the people: the People's Assembly (lower house), the Shura Council (upper house) and the presidency. We want the security system to be rebuilt, based on respect for human rights. We want the military to open dialogue with the young people, and to increase transparency by communicating openly through the media. We want a strong government with the authority to fight rampant corruption within its own institutions. My parents grew up in a corrupt regime, a security state dominated by one man, without any opportunity to express themselves. They were taught to chant proverbs like "live your life and mind your own business," "one who fears, lives in peace," "walk alongside the wall," "cowardice is the highest morality." A mentality born of repression cannot be changed overnight. And yet I am optimistic…"
'The real lesson of Iraq' (Malfrid Braut-Hegghammer, International Herald Tribune)
"Israelis tend to credit this attack for denying Iraq a nuclear weapons capability. However, sources that have emerged since 2003 demonstrate that the attack created an unprecedented Iraqi consensus about the need for a nuclear deterrent and triggered a more intensive effort to acquire them. By the 1991 Gulf War, Iraq stood on the threshold of a nuclear weapons capability. What is known about Iran's nuclear program suggests an attack could have similar consequences. Iran's erratic nuclear advances over the past decade suggest that there is no consensus about whether and when to develop a nuclear weapons capability. While it is possible that Iran could develop fissile material for a nuclear weapon within weeks or months, such a high-risk move would require a consensus that does not currently exist in Tehran. Instead, Iran is edging closer toward a nuclear weapons option. An attack is one of the very few events that could create consensus in Tehran that it is necessary to develop nuclear weapons sooner rather than later."
'Are there 'zero problems' for Turkey?' (Peter Harling & Hugh Pope, The Daily Star)
"In short, when popular applause eventually subsides, Turkey may be left with a foreign policy with no conceptual framework to unite its many contradictions: an unsustainable mix of alliance with the U.S. and confrontation with Israel; a social-economic model built on convergence with Europe but in which the EU negotiation process has stalled; idealistic enthusiasm for Muslim democrats but continued links to other authoritarian leaders; public displays of Muslim piety alongside support for secular constitutions; and bitter arguments with all those keen to capitalize on the above to cast doubt on Turkey's role in the Middle East." 
Latest from the Channel
— 'Morocco's new elections, just like the old elections?' by Daphne McCurdy
— 'Egypt's elections begin with a long way to go' by Marc Lynch
— 'FP's Middle East thinkers' by Marc Lynch 
Share +
Related Stories
Michael Knights
Michael Knights is a Lafer fellow at the Washington Institute for Near East Policy. He travels regularly to Iraq and has written a number of books and reports on the country's security and politics, most recently "The Iraqi Security Forces: Local Context and U.S. Assistance."
|
Argument
|
0 Shares
Nicholas Seeley
Nicholas Seeley is a freelance reporter who has covered the last two major refugee crises in Jordan. His latest publication is the Kindle Single "A Syrian Wedding," which follows a young couple trying to get married in the Zaatari camp.
|
The Middle East Channel
|
0 Shares