The Middle East Channel
MEC Reader 3
Welcome to this week's edition of the Middle East Channel Editor's Reader, in which I share books and articles which I've been reading recently. This week, I highlight three books, a great special issue of an academic journal, and a new policy brief by two political scientists. The MEC Bookshelf The Journey to Tahrir: Revolution, ...
Welcome to this week's edition of the Middle East Channel Editor's Reader, in which I share books and articles which I've been reading recently. This week, I highlight three books, a great special issue of an academic journal, and a new policy brief by two political scientists.
The MEC Bookshelf
The Journey to Tahrir: Revolution, Protest and Social Change in Egypt, edited by Jeannie Sowers and Chris Toensing (Verso). This collection of essays, most of which were previously published in the journal Middle East Report, covers a variety of dimensions of Egyptian politics, culture, economy, and society. The collection includes classic essays such as Mona el-Ghobashy's "The Praxis of the Egyptian Revolution," Asef Bayat's "The Arab Street," and Timothy Mitchell's "Dreamland," along with first rate essays by Elliott Colla, Ursula Lindsey, Joel Beinin, Issandr El Amrani, Samer Shehata and Joshua Stacher, Karen Pfeifer, Hossam Bahgat, Ted Swedenburg, and more. Be warned, however, that most of these essays have previously been published, some are a bit dated, and many can be found online.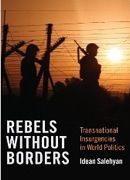 Rebels Without Borders: Transnational Insurgencies in World Politics, by Idean Salehyan (Cornell University Press). The Syrian crisis seems to be edging toward a protracted internationally supported insurgency through the arming of the opposition. As Idean Salehyan shows in this book, international support for insurgencies has a long — and less than reassuring — history. Indeed, as he pithily summarizes in a related article, the academic consensus suggests that "civil wars with outside involvement typically last longer, cause more fatalities, and are more difficult to resolve through negotiations." Civil wars, he argues, must more than ever be understood not as domestic affairs but within their broader regional and international context. And that context makes the prospects for a proxy war in Syria look grim indeed: weak neighboring states, large refugee populations, potentially dissatisfied ethnic groups concentrated on borders, hotly competitive regional politics, a fragmented opposition… and clear disagreements and divisions even among the potential external backers of the opposition (Turkey and Saudi Arabia, say, clearly do not share identical interests or networks). Not the easiest read (especially for theory or math-phobes), but worthwhile for those grappling with Syria.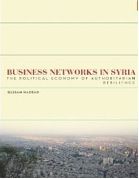 Business Networks in Syria: The Political Economy of Authoritarian Resilience, by Bassam Haddad (Stanford University Press). The debate over Syria has focused attention on key questions of political economy: When will Syrian merchant class turn against Bashar al-Assad? How long can the regime weather international sanctions? Haddad's recent book details the evolution of collusion between the business community and the Syrian state through a period of economic reform, as "exclusionary state-business networks have been able to skew the benefits of economic change in their favor." The inter-penetration of state officials and the new economic elite complicate any easy separation of their identities and interests. While the book does not address the Syrian uprising — for that "The Syrian Regime's Business Backbone" here — it provides essential context.
The POMEPS Reader
The featured articles in today's POMEPS Reader all come from Perspectives on Politics, the APSA journal designed to further a "political science public sphere" which editor Jeffrey Isaac has helped to transform into one of the very best political science journals. I've rarely found a political science journal so relevant, timely, and useful. Thanks to Isaac, APSA and to Cambridge University Press for temporarily ungating these important articles — a precedent which I hope editors and publishers will follow.
"Too Much Information: International Affairs, Political Science, and the Public Sphere," by Lisa Anderson (Perspectives on Politics, excerpted in the SSRC Public Sphere Forum). Lisa Anderson, President of the American University of Cairo and a member of the steering committee of the Project on Middle East Political Science, presents a sharply observed essay on the changing role of academics within a transforming public sphere. The rise of the internet, with its readily available facts at the touch of an iPhone and legions of smart, informed, and opinionated analysts, cuts to the heart of the self-image and expected role of many academics. Anderson makes a passionate and informed case for academics to embrace engagement as the core of their mission: "it is the social physics of the twenty-first century-there is no avoiding it and not much point in worrying over it." One of my favorite essays of the last year.
"New Approaches to the Study of Violence," by Jeff Isaac. The editor of Perspectives introduces here an outstanding collection of essays on violence, none specific to the Middle East but all of great relevance for understanding the unfolding Syria crisis. In "States, Insurgents, and Wartime Political Orders," Paul Staniland examines the tacit bargains, deals, and competitive state building which characterizes protracted insurgencies — very useful perspective when trying to understand exactly who is running the parts of Syria which seem to have slipped from regime control, and how. In "A Plague of Initials: Fragmentation, Cohesion, and Infighting in Civil Wars," Kristin Bakker, Kathleen Cunningham, and Lee Seymore focus on the impact of fragmentation and internal competition among insurgent factions, an urgent concern for anyone surveying the organizational struggles of the Syrian oppositions. And in "Retreating from the Brink," Scott Straus examines how some countries in the throes of internal violence manage to pull back before a complete collapse into genocidal killing.
"Intervention in Syria: Reconciling Moral Premises and Realistic Outcomes," by Eva Bellin and Peter Krause (Crown Center, Brandeis University). This is a useful addition to the growing body of analysis and argument on the question of international intervention in the Syria crisis. Bellin and Krause examine Syria through a comparative lens, and like most analysts who take such an approach they conclude that direct intervention is likely to produce a worse stalemate rather than a rapid resolution of the crisis. They instead urge a focus on reducing the capabilities and changing the incentives of the regime, adding to the array of possibly useful policy options.