The Middle East Channel
Little solace for Syrians in Egypt
Abu Baraa knew it was time to leave Syria in June 2011 when state security asked him to become an informant against the revolution. To refuse that offer, he reasonably feared, would invite imprisonment and torture if not certain death. Abandoning his home in the suburbs of Damascus, the site of the harshest initial fighting, ...
Abu Baraa knew it was time to leave Syria in June 2011 when state security asked him to become an informant against the revolution. To refuse that offer, he reasonably feared, would invite imprisonment and torture if not certain death. Abandoning his home in the suburbs of Damascus, the site of the harshest initial fighting, he shuttled his wife, Um Baraa, and their two children onto a plane to Egypt and joined them there after a month in hiding.
Days later in Cairo, the family attended an anti-Assad demonstration at the Syrian embassy. "It was the first time we felt comfortable enough to participate," said Um Baraa. "I wanted our chants to reach Syria." More than a year later, the fighting back home persists while she and her family continue to wait in Egypt for the day when they can return safely to a free Syria.
Thousands of Syrians have come in the past year to an Egyptian exile that is safer than their war torn homeland, but still full of hardship. Intensifying violence in Syria this summer has accelerated that forced migration — the United Nations counts more than 1,300 registered refugees while unofficial estimates exceed 10,000. This is smaller than the diasporas in the countries bordering Syria where unofficial estimates exceed 200,000, but for many Syrians who can scrape together the money for a flight, Egypt is preferable to crowded refugee camps in Jordan and Turkey or the sectarian streets of Lebanon.
However Egypt's government, mired in its own tumultuous political transition, has been able to do little for these refugees. Instead, Syrians rely on the charity of others and their own ingenuity to survive. They have banded together to form small communities that secure basic needs like food, shelter, and medical attention. Yet while they hold out hope for the situation back home to improve, and sometimes even participate in the opposition from abroad, their collective frustration continues to mount.
On a steamy midsummer afternoon, Abu Baraa welcomed a recently arrived refugee family at an improvised warehouse that stores donations of furniture, clothing, and house supplies collected in a recent citywide donation drive. In the back of this three-bedroom house, Um Baraa waded through a sea of pots and pans with another woman and her three young children, carefully selecting the items the family needed most. 
The oldest son, a burly man in his 20s wearing an American football jersey, stood out front with Abu Baraa. Unable to bear watching his family take handouts, he was teary-eyed as he recalled distributing donations from the Syrian Red Crescent to the needy in his hometown of Homs. Forced by heavy shelling to abandon his comfortable life in Syria, he now loaded a pickup truck with the tables and other items his mother had selected, securing his younger siblings among the cargo.
Connecting desperate compatriots with vital services in their temporary home has become the raison d'être for Abu Baraa and Um Baraa, who oversee one of the largest informal resettlement operations for Syrian refugees in Egypt. "Nowadays," he said, "we are working for the Syrian refugees." Um Baraa explained that she has devoted herself to this cause because she was so thankful to get out of Syria alive with her husband and children.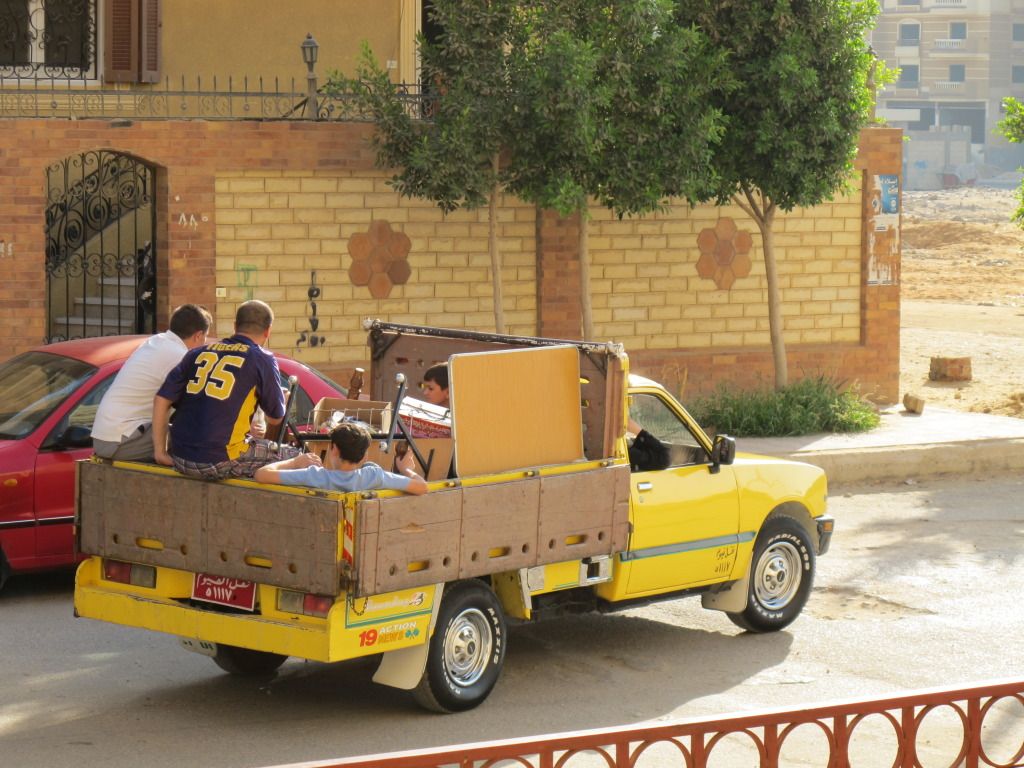 The family's first few months in Egypt during the summer of 2011 had been immensely challenging. Like many Syrians who have come to Egypt, they cashed in almost all their worldly belongings to finance the trip. They managed to rent a bare apartment in the inexpensive Cairo suburb of 6 October City, but as visitors, Abu Baraa and his wife were restricted from working or enrolling their children in school.
The family was forced to survive on their meager savings, sleeping on the bare floor and living out of suitcases. They graciously accepted free medical care from Tahrir Doctors, a charity that emerged from the Egyptian revolution's field hospitals. Yet their indeterminate status as refugees left them in limbo, and with few resources or connections, they were obliged to rely on the kindness of strangers and each other.
The family always assumed that their stay in Egypt was temporary and their return to Syria imminent. Yet as the months passed, hope for a speedy departure faded. Instead of letting despair set in, they directed their energies to the most useful task they could imagine: helping other refugees.
They met new arrivals at demonstrations and marches, slowly developing an informal network of expatriates. Through partnering with well-connected Syrian activists and local organizations like Tahrir Doctors and the Egyptian doctors' syndicate, their efforts began to form a modest safety net for the influx of refugees fleeing Syria as the conflict escalated. Donations flowed in from the long term Syrian expat community as well as some local Muslim charities.
By June 2012, Abu Baraa and Um Baraa had secured housing for 30 families in 6 October City and were planning to acquire another building for additional refugees. Newcomers often contact them before arriving in Egypt and go straight to that Cairo suburb when they land.
Mohamed, a 26-year old student, left his family in Aleppo at the end of 2011. His parents sent him to Cairo to enroll in dental school, but he knew the real reason was to keep him away from the escalating conflict in Syria. Seven months later, he had still not begun his studies and is not content in Cairo. "It's my dream to return to Syria and join the Free Army," he said before praising the revolution's main rebel group.
In the meantime, Mohamed supports himself by selling Syria paraphernalia — key chains, bracelets and other items emblazoned with the pre-Baath era flag — at the tent of the Syrian diaspora where ghastly images of the regime's massacres hang beside spiteful caricatures of Bashar al-Assad. A few steps away from the Arab League building, the large white tent carved out a permanent presence in Cairo's Tahrir Square at the beginning of 2011 while a delegation of monitors from the Arab League was failing to enforce a ceasefire plan in Syria.
The Syria tent is financed and managed by Moataaz Shaqlab, a businessman from Homs and founder of the moderate Dignity movement who immigrated to Egypt nearly 25 years ago. "Its role is to explain the Syrian issue to Egyptians and Arab diplomats and foreigners who enter the Arab League," he said. "To send the message that Syrians are being massacred and that we want our country to be democratic."  
Shaqlab employs Mohamed and seven other refugees living in Cairo to staff the tent, which features an ever growing library of grisly photographs and sponsors regular demonstrations in honor of the revolution's victims. Modest salaries help cover the young men's living expenses, while the work provides them an outlet for participating in the revolution and camaraderie in a foreign land. They maintain constant contact with friends and relatives in Syria via the internet, then circulate the news in Egypt through word of mouth and activities at the tent. 
One clear evening in early June, with Tahrir full of people demonstrating against the lenient sentences doled out to former Egyptian President Hosni Mubarak and his top aides, the Syria tent was bustling. Protesters leaving Tahrir for the night strolled through, stopping briefly to glance at a few images or deliver words of encouragement to Shaqlab o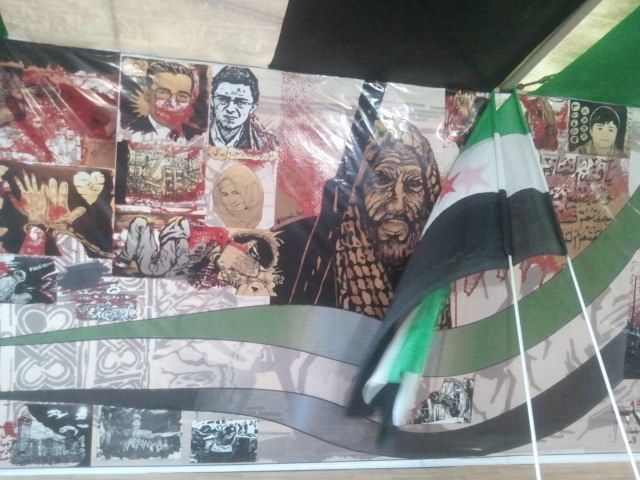 r one of his staff for the success of the revolution. Mohamed operated his merchandise table inside while the others manned the entrances, stopping Egyptians from smoking inside or, in one case, from riding a motorcycle through the enclosed site.
Ali, an older Egyptian man wearing a traditional galabiya, sat and listened as the tent's media director talked about the need for Western nations to allow the transfer of arms to the rebels. Ali said nothing until asked his opinion about the conflict in Syria. He asserted that Egyptians and Syrians must support each other, but admitted that his country was too busy at the moment with its own domestic problems. "I have my eye on Syria," he said, "but my heart is with Egypt."
This sentiment is common among Egyptians. There is an affinity between the two peoples dating back past their countries' brief confederation in the 1950s to the unifying reign of Saladin in the twelfth century. This notion of Arab brotherhood now prompts sympathy for Syrians from broad swaths of Egyptian society, even while they are preoccupied with completing their own revolution.
Moments later, a group of boys carrying Egyptian flags and chanting against the Mubarak ruling passed by and noticed the Syrian flag outside the tent. They quickly modified their cheer, crying out "Egypt and Syria are one hand" in solidarity with their Arab brothers. The boys' chanting was contagious, attracting those nearby until more than a dozen voices, Egyptian and Syrian, emerged in unison. Moments later, the cheers faded and the boys shook hands with their Syrian counterparts before proceeding out of Tahrir.
Another evening that week, protest-goers sat on the sidewalk beside the Syria tent in clusters of plastic chairs and sipped hot tea purchased from an itinerant vendor. Shaqlab held court with a few young Syrian men from the predominantly Druze province of Suwayda in southwestern Syria, one of whom had just arrived in Egypt that day.
A.K. spoke on the condition that only his initials be published. He had left his family and his fiancée in Syria three months earlier to avoid military service. Rather than pay a fee to avoid conscription, which would help finance the regime's repression, he fled to the United Arab Emirates (U.A.E.) hoping to find an engineering job. The other men from his hometown sitting around the circle that night had followed the same course three years earlier, and they had found prosperity and openness in the U.A.E. 
But after a large demonstration in Dubai last March, U.A.E officials deported dozens of Syrians. The men from Suwayda were denied renewal of their work permits and forced to abandon their jobs, homes, and friends. A.K. was similarly forced out of the country after his tourist visa expired, so he followed the others to Cairo where they live together in a shared apartment. Until the situation in Syria improves, they are stranded in Egypt far from their work and their families.
A message printed in bold on the front of the tent in Tahrir conveys Syrians' appreciation for their Egyptian hosts. For families like Abu Baraa's and young men like A.K., that sentiment is genuine, but it accompanies a growing sense of frustration with a conflict that appears far from over.
Stephen Kalin is a freelance journalist and a CASA Fellow at the American University in Cairo. Follow him at @6thFloor_Cairo.