Diplomatic climate change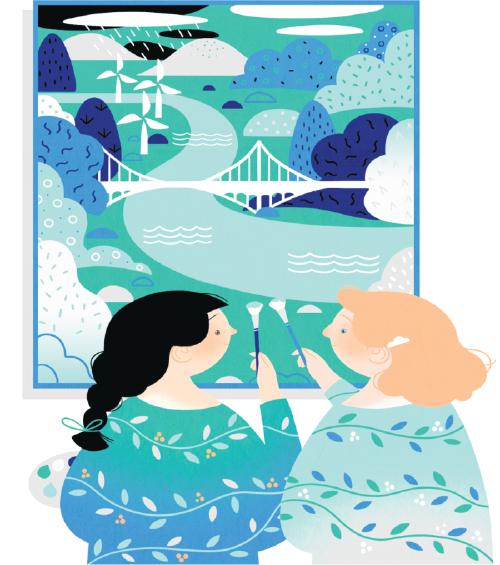 Global climate governance requires joint efforts by the US and China, but it lies to be seen if the incoming Biden administration is up to it
According to the latest report from the World Meteorological Organization, climate change continues inexorably, with 2020 one of the three warmest years on record and 2011-2020 the warmest decade.
However, US president-elect Joe Biden will assume office on Jan 20, and it is hoped that the new administration will start a new chapter in his country's climate diplomacy with China.
In his 2020 presidential election campaign, Biden pledged that if elected he would actively address climate change. He has repeatedly vowed to ensure that the United States will reach the strategic goal of net zero emissions by 2050 and transit to a 100 percent clean energy economy as soon as possible.
The officials appointed by the transition suggest that there could be a "whole-government response to climate change" in the US. After four years of "blackening" climate policies, the US is embracing a new era of "greening" policies both at home and abroad.
As the president's special envoy for climate, John Kerry will inherit the "negative asset" of climate diplomacy left by the current administration and rebuild the US' image in global climate governance.
The more difficult and challenging question, however, is how Kerry will work with China on climate issues.
Kerry has said on several occasions that it is important and necessary for the US and China to work together to combat climate change. Under the leadership of President Xi Jinping, China has paid increasing attention to climate change and curbing its greenhouse gas emissions-from increasing its nationally determined contributions to adopting more forceful policies and measures. At the general debate of the 75th session of the United Nations General Assembly last year, President Xi said that China will strive to peak its carbon dioxide emissions before 2030 and achieve carbon neutrality before 2060, which has greatly encouraged the world.
It is possible to write a new chapter in Sino-US ties if Biden is able to get serious about climate change and revives climate cooperation with China.
First, the nature of climate change is such that without efforts from the US or China, global climate governance is bound to fail. That is to say, effective global climate governance must include China and the US. Given that both China and the US are now focused on addressing climate change and both realize that they cannot solve the problem alone, joint action and cooperation is possible.
Second, China and the US have a history of climate cooperation during which they have achieved certain positive results. During the Barack Obama administration, the two countries signed three high level joint statements on climate change, laying the foundation for current and future cooperation on climate change. That is to say, the two countries are not starting from scratch. Instead, a solid foundation-which includes the exchange and allocation of personnel, the design and arrangement of mechanisms, the utilization of funds and so on-already exists.
Third, the world has high expectations of Sino-US climate cooperation, and resuming such cooperation is a responsible act in line with the trend of the times. The international community spoke very highly of China and the US jointly signed the Paris Agreement recognizing its value. At a time when Sino-US relations are seeing ups and downs and the international situation is facing a catastrophic pandemic, joint efforts by China and the US to tackle the global climate challenge will inject vitality and light into the whole world.
It is hoped that climate cooperation between China and the US happens soon. However, many challenges and difficulties still lie ahead.
First, the US is deeply divided and declining in many ways and that will definitely weaken its foreign policy and US-China climate cooperation. The US has many problems to solve domestically, especially the social divisions and growing political polarization, as evidenced during rioting at the Capitol while the Congress was ratifying the US presidential election results on Jan 6.
The divided US society needs to be reconnected, hostile emotions need to be calmed and the pandemic needs to be brought under control. Despite Biden's ambitious climate slogans and goals, there is uncertainty about what his administration can actually do given these limitations.
Second, after four years of the current administration, China-US relations have reached their lowest point since 1979, and a serious lack of trust in bilateral relations has permeated the Sino-US climate field. Capricious climate diplomacy has caused frustration and disappointment in China, also raising concerns about some of China's development and investment projects involving energy at home and abroad. How to rebuild bilateral trust through the establishment and promotion of specific Sino-US climate cooperation projects is an important topic for both countries.
Third, the inconsistency among the top officials in the incoming Biden administration increases the uncertainty about the upcoming bilateral climate cooperation. For example, despite Kerry's support for working with China on climate change, other members of the administration have voiced the need to take a tougher line on China, even on climate issues. Crucially, Biden, while deeply in agreement with Kerry on many climate issues, differs on how to deal with China. He pointed out in an article on foreign affairs that the most effective way to meet challenge is to build a united front of US allies and partners to confront China's "abusive" behaviors even as they seek to cooperate with Beijing on issues, such as climate change, where interests converge.
In conclusion, the new Biden-Harris administration raises our expectations for a new chapter in China-US climate cooperation, but many uncertainties still remain.
The author is an associate researcher with the Institute of American Studies at the Chinese Academy of Social Sciences. The author contributed this article to China Watch, a think tank powered by China Daily. The views do not necessarily reflect those of China Daily.
---