Growing pain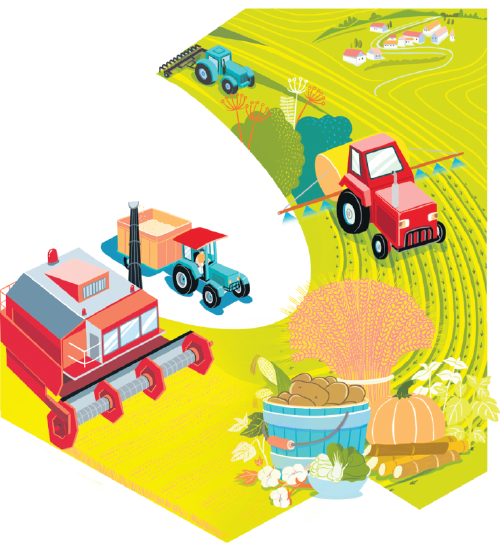 Protecting arable land is one of the priority tasks for China
Protecting arable land has become an increasingly pressing task for China. Unbalanced urbanization and industrialization and continuous migration of the rural population to urban areas have accelerated the separation of people, land and grain in China.
Permanent basic farmland is the strictest farmland protection policy that the Chinese government has introduced to effectively protect high-quality arable land. According to the policy, once farmland is classified as permanent basic farmland, no organizations or individuals can occupy the land or change its purpose for use without authorization, an extremely effective policy for protecting high-quality arable land and preventing the unlimited expansion of cities. However, local governments at all levels have displayed a strong willingness to adjust the policy. For instance, some regions have proposed to adjust the layout of permanent basic farmland to improve the urban spatial structure; some aspire to build city clusters to accelerate regional economic growth with the urban centers to be built mostly within the area of permanent basic farmland.
In the meantime, the permanent basic farmland protection areas overlap with the ecological protection areas and the areas for "Grain to Green" (returning farmland to forest and grassland).Such overlapping is more severe in Southwest China. For instance, 42.5 percent of the land in Pengshui county of Chongqing has been classified as a county-level nature reserve, with 47 percent for arable land and 41 percent for permanent basic farmland. There is a severe policy conflict in terms of whether to protect the environment or the farmland.
China has little arable land in reserve, and there is no spare high-quality arable land that can be cultivated for requisition-compensation when existing farmland is lost to development.
Large areas of high-quality arable land reserves in developed regions such as Beijing, Tianjin and Zhejiang province have almost been exhausted. Likewise, the arable land reserves in the Inner Mongolia, Ningxia Hui and Xinjiang Uygur autonomous regions, and Heilongjiang, Jilin, Liaoning and Gansu provinces, have almost been exhausted as well. The arable land reserves to be developed are mostly located in ecologically fragile zones that are designated within the ecological protection redline.
Misused arable land resources are undermining China's arable land stability and food security.
Some local governments have misunderstood the concept of ecological civilization construction, thinking it is no more than landscape construction, tree planting and grassland cultivation. Furthermore, farmers prefer forest farming, which can yield more economic benefits. For instance, some farmers have planted gum trees and fast-growing poplars on what has been classified as permanent basic farmland. Further compounding the issue is the conversion of permanent basic farmland into orchards and large areas of cropland being abandoned.
The utilization ratio of arable land in South China has declined, exacerbating food production risks in the region, due to farmers' declining grain production. In North China, however, farmers have used heavy irrigation, pesticides and fertilizers to increase yield and earnings, resulting in over-abstraction of groundwater, the degrading of arable land and environmental contamination.
China should have a top-level design for tackling problems deriving from the separation of people, land and grain.
First, China should strengthen the coordination between different departments to avoid policy contradictions, overlaps and vacuums. A coordination mechanism should be established with concerted efforts to cope with the problem of arable land for non-grain or non-food uses.
Second, China should continue to implement the strictest requisition-compensation balance policy for arable land. According to China's arable land use policy, when a piece of arable land is used for non-agricultural purposes, another piece of arable land of the same quantity and quality should be provided to strike a balance. The requisition-compensation balance policy for arable land has proven to be an irreplaceable policy tool for curbing the fast expansion of cities as it can effectively suppress the ever-increasing desire for occupying arable land while at the same time ensuring reasonable land use. The policy can push local governments and enterprises to exploit existing construction land to the full extent and promote more cost-effective land use.
Finally, a framework for agricultural planting layout should be implemented. For instance, China can fully tap the photothermal resources in the Hexi Corridor and Xinjiang Uygur autonomous region to build a national vegetable basket project by greatly developing oasis farming, irrigation farming and facility agriculture. Regions surrounding big cities should fully exploit their non-arable land resources to ensure vegetable supplies, to avoid the competition for land use between vegetable production and grain production.
It is also very important for China to coordinate the interests of the country, local authorities and farmers.
On the one hand, an inter-regional land compensation mechanism should be implemented to promote coordinated arable land protection between regions by using economic incentives. On the other hand, a national arable land protection fund should be set up to increase compensation for arable land protection endeavors in major grain producing areas and arable land resource protection zones. It should aim to increase the fiscal revenues of grain output regions, encourage the implementation of protective farming technologies, and increase farmers' income so as to boost the momentum for arable land protection.
China should further clarify the responsibilities, rights and interests of arable land protection entities.
To start with, farmers and rural collective economic organizations, who are the users of arable land as stipulated by the Land Management Law, should be included into the subject of responsibility for arable land protection.
Second, a performance assessment system should be established for arable land protection, which should provide incentive compensation to rural collective economic organizations that have performed well on arable land protection.
Finally, ecological farmland, landscape farmland and cultural farmland should be established based on respective land resources and location advantages of each rural area to give full play to the functions of arable land, to increase the comprehensive value of agricultural products. This can, to the greatest extent, increase the value of arable land resources and increase farmers' income from the land.
The author is a professor of the College of Land Science and Technology at China Agricultural University. The author contributed this article to China Watch, a think tank powered by China Daily. The views do not necessarily reflect those of China Daily.
---