Promoting the sixth insurance program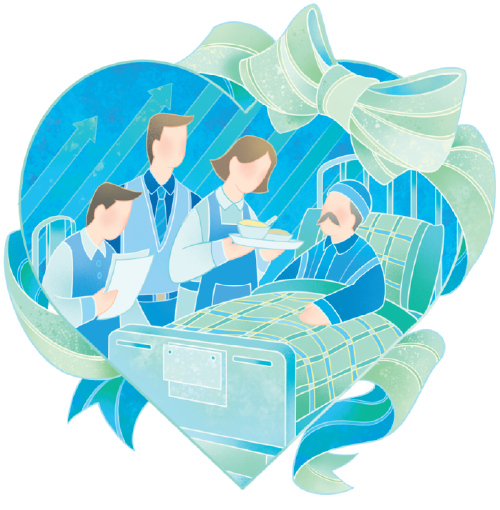 Providing more long-term care services for China's elderly population is a pressing concern
China's population is aging rapidly. Its population over the age of 60 numbered 254 million in 2019.With an average life expectancy of around 77.3 years and average healthy life expectancy of 68.7 years. Many senior citizens face illness and disabilities for more than eight years on average, creating a huge demand for elderly healthcare and nursing services.
A survey conducted by the Institute of Population and Labor Economics under the Chinese Academy of Social Sciences found that 23 percent of those surveyed, including 36 percent among those over the age of 80, expressed a need for long-term care services. Even among those aged between 60 and 69 years old, 6 percent could not care for themselves. In July 2016, the Ministry of Human Resources and Social Security issued guidelines on implementing the long-term care insurance policy in 50 pilot cities, a breakthrough for establishing and improving China's long-term care insurance system.
China already has five social insurance programs: elderly care, healthcare, unemployment, work injury and maternity. The government runs the programs, with the individuals and employers paying premiums on a compulsory basis. Four years into the trial run, the long-term care insurance is likely to become the sixth program.
Qingdao in Shandong province is one of the first Chinese cities to join the program, and has made remarkable achievements in promoting long-term care insurance, the benefits of which have reached over 52,000 people with an average age of 82.
The insurance program has accumulatively purchased 25.04 million days of nursing services for seniors unable to take care of themselves and seniors with dementia. Promotion of the insurance program has also contributed to the rapid growth of privately owned elderly care institutions in the city, including micro-sized institutions integrated in communities. Over 90 percent of Qingdao's newly established elderly care institutions are privately owned, providing 95 percent of the total services and with over 15,000 nursing personnel.
According to the National Healthcare Security Administration, by the end of June 2019, more than 88.54 million people in China were covered under the long-term care insurance program and more than 426,000 subscribers had received benefits, with the average annual payment of over 9,200 yuan ($1,419). Establishment of the long-term care insurance program will ease the burden on the families of elderly people who are no longer able to live on their own.
However, several problems remain.
Even after four years of city-based trials, a universal framework is yet to be established. The different cities included in the pilot program have vastly different policies. The lack of a national standard has resulted in vast differences in charging standards between different regions and departments. Besides, some regions have not included in the pilot program those elderly residents in rural areas who are unable to take care of themselves, and these areas also lack professional training facilities for nursing personnel.
The lack of coordination between different nursing models is another problem. The three models-at home, in the community and in institutions-operate independently. The three should be coordinated to better meet the nursing demands of the elderly.
There is also a shortage of professional nursing personnel. Most of the caregivers are unemployed or migrant workers, who have received little professional training. As a result, the quality of nursing services cannot be guaranteed. Currently, there are less than 1 million professional practitioners in the elderly nursing service industry nationwide, and less than 300,000 of them have the required qualification or a medical background.
To solve these problems, an effective system should be established to ensure nursing services for the elderly. This should factor in China's local contexts and also draw experience from international practices, especially in developed countries which have much experience in caring for their aging populations. For instance, in Japan, the central government is responsible for formulating policies-such as releasing detailed standards-and carrying out strict supervision of elderly care provision. Japan's long-term care insurance program gives consumers the right to choose and requires service providers to compete with each other to raise the quality of the services provided.
Developed countries usually set 65 as the age at which one becomes a senior citizen. But in developing countries, it is usually 60. China's level of population aging is between that of developing and developed countries. However, its per capita GDP of over $10,000 and average life expectancy at 77.3 years means China's level of population aging is closer to that of developed countries. Therefore, China could also set 65 as the age when a person is classified as a senior who can claim the benefits of long-term care insurance.
China should also take concrete measures to foster nursing personnel. That is dependent on the secondary and higher vocational education and vocational qualification certificate system. To date, 159 higher vocational colleges have started relevant programs, but they are not really popular. The monthly income of nursing personnel in elderly care institutions in first-tier cities is around 4,000 yuan, about half that of a nurse at a 3A grade hospital (the highest of China's three-tier grading system for public hospitals). Most elderly nursing service providers find it hard to recruit enough employees due to the low pay. The elderly nursing industry is in urgent need of qualified personnel. Although some regions have made efforts to meet the shortfall by providing housing allowances and education followed by job recommendations, more money must be invested to make the profession more appealing to young people and ensure those who enter it receive training.
The author is a research fellow with the Institute of Population and Labor Economics at the Chinese Academy of Social Sciences. The author contributed this article to China Watch, a think tank powered by China Daily. The views do not necessarily reflect those of China Daily.
---