Key to future growth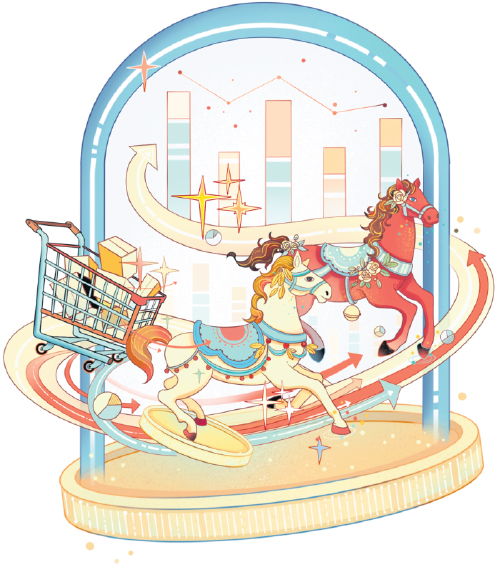 China is accelerating the development of a full-fledged domestic demand system
The international landscape has become increasingly complicated, with mounting instability and uncertainties that will persist for some period of time. The COVID-19 pandemic has posed challenges to economic globalization, leading to sluggish economic growth and shrinking global markets.
Although, domestic demand is already a major pillar of China's economic growth, contributing to 89 percent of China's GDP growth in 2019, it is necessary to further unleash the potential of China's huge market to ensure medium-speed economic growth.
According to the 14th Five-Year Plan (2021-25), the government has decided to nurture a complete domestic demand system by enhancing the fundamental role of consumption as a driver for economic growth and by bringing into full play the role of investment in optimizing the supply structure.
With a population of 1.4 billion, China's per capita GDP exceeds $10,000, and its middle-income population has reached about 400 million. It has the world's largest consumer market and has great potential that remains to be tapped.
But there is still much potential growth to improve the level of domestic consumption and adopt modern technologies and production modes to upgrade consumption.
Developing a complete domestic demand system should be integrated with the trend of consumption upgrading. In particular, the upgrading of traditional consumption of big-ticket items, such as cars and housing, that account for a large proportion of domestic household consumption. As of June 2020, the number of registered motor vehicles nationwide was 360 million. But the demand for new energy and medium-to high-end vehicles continues to increase. The upgrading of vehicles has accelerated, injecting new impetus into the auto industry.
China is also advancing a new type of urbanization by turning rural migrant workers into urban residents and addressing the housing issues for new or young urban residents, which will release the potential for new housing demand. At the same time, the demand for home improvement has also grown as shanty towns, old communities and rural dilapidated buildings need reconstruction or renovation.
Efforts are also needed to boost new consumption driven by improvements in living standards and technological progress. During the height of the epidemic in China, internet-based economic modes, online consumption and contactless services have developed rapidly. The new consumption modes, the integration of online and offline businesses and the expansion of services have large room for growth, and they will become new driving forces for consumption.
At the same time, residents are shifting their consumption focus from commodities to services. In 2019, China's per capita expenditure on services reached nearly 10,000 yuan ($1,542), accounting for 45.9 percent of the total per capita consumption expenditure. Under current systems and policies, China's service industries, including healthcare, elderly care, childcare, cultural tourism and sports, are still facing problems including small scale and low-quality services, inadequate work on developing standards and branding, and insufficient efforts to meet the potential demand for services. The service industry needs to open wider and seek upgrading to provide more diverse and higher-quality services for daily life.
As an important part of domestic demand, public consumption can be enhanced in a sustainable manner based on the fiscal affordability, and the recently released 14th Five-Year Plan (2021-25) proposed to boost public consumption adequately.
The potential of rural consumer markets can also be further tapped. The per capita consumption expenditure of urban residents was 28,063 yuan in 2019 and that of rural residents was 13,328 yuan. The government needs to give full play to the leading role of major cities and clusters, build a unified domestic market, improve the modern logistics system and enhance the efficiency of urban and rural deliveries. It also needs to boost supplies of commodities for rural consumers, build agricultural product supply chains, and promote sales of industrial products in rural areas and those of agricultural products in cities.
Investment demand is also important for developing a complete domestic demand system. As the world's largest developing country, China's investment accumulation in infrastructure and people's well-being is still insufficient. The shortage of investment intensity in scientific and technological innovation and disaster prevention systems became prominent during China-US economic and trade frictions and the pandemic.
The key is to improve the investment structure, enhance efficiency and maintain sound growth of investment to improve consumption, people's well-being and support industrial restructuring and balanced economic growth. The repetitive building of low-quality facilities needs to be avoided to reduce overcapacity.
First, the government needs to improve investment in fields with both demand and growth potential, such as infrastructure, agriculture and rural affairs and public services for people's well-being, and promote coordinated development of urban and rural areas and improve people's lives through effective investment.
Second, it needs to encourage enterprises to increase their investment in equipment and technology upgrading for higher innovation capability and raise the level of traditional industries so they are high-end, smart and green.
Third, it should increase its investment in emerging industries and boost clusters of advanced manufacturing industries to develop new economic driving forces to better meet people's new demands.
Last but not least, more investment is needed to improve infrastructure building, cross-regional cooperation, ecological security and major engineering projects.
The author is the president of the Chinese Academy of Social Sciences. The author contributed this article to China Watch, a think tank powered by China Daily. The views do not necessarily reflect those of China Daily.
---