Education should help children enjoy studies
The ripples of "double reduction" are being felt even a month after it came into effect, as one more private tutoring institute, called Juren-Giant in English, declared bankruptcy on Aug 31, a day before the start of a new school semester. Why is the tutoring sector reform important?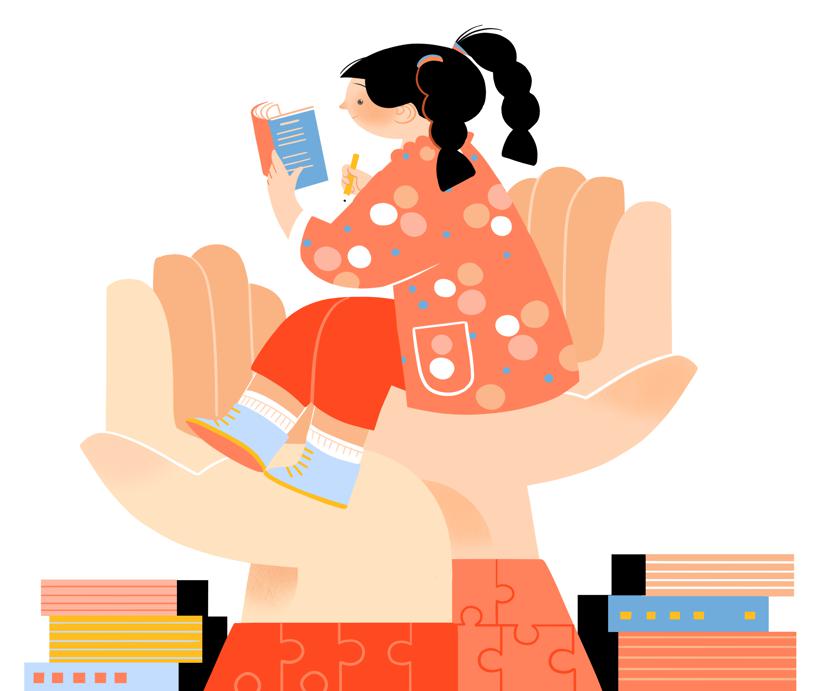 Editor's note: The ripples of "double reduction" are being felt even a month after it came into effect, as one more private tutoring institute, called Juren-Giant in English, declared bankruptcy on Aug 31, a day before the start of a new school semester. Why is the tutoring sector reform important? And what could be the benefits and side effects of the reform? Two experts share their views on the issue with China Daily's Yao Yuxin. Excerpts follow:
Prep schools should change roles to survive
The education authorities' move is meant to reduce the total amount of time required to do school homework and ease the burden of on-campus or after-school training programs (or double reduction) on students.
Compared with their foreign counterparts, Chinese students spend much more time on their studies. According to a survey conducted by the education guiding committee of the State Council in April, 67 percent of the middle and primary school students didn't get enough sleep, and 17 percent were bogged down by excessive school work.
Crammed study schedules not only lead to inefficiency but also mean students get less or no time for playing sports or doing physical exercise or taking rest, resulting in a rising rate of obesity and myopia among Chinese children. About 20 percent of the children aged between six and 17 years, and 10 percent below six are overweight, according to data presented at a National Health Commission meeting in July. And the Ministry of Education's 2020 statistics showed 52.7 percent of all Chinese students were nearsighted.
Earlier, the education authorities tried to ease students' burden by reducing school hours and setting a time limit for doing homework. But such measures didn't produce the desired results, because to ensure their children scored good marks in exams, parents used to get them enrolled in private test-preparation schools.
So the authorities had to tighten regulations on the test-prep sector, which used to make full use of parents' anxiety over their kids' scores to make profits. Accordingly, the authorities issued a policy document requiring the after-school tutorial institutes to register as nonprofit organizations, and banning all special classes on weekends, after 8:30 pm on weekdays, and during festivals, and summer and winter vacations.
Thanks to the policy, students can now breathe a sigh of relief. They will not be pushed to study all the time for tests any more, and invest their free time in hobbies and self-exploration.
But as long as test scores remain the key criterion for admission, the need for test-prep classes may not end. Besides, the restrictions on after-school classes could undermine fairness in education, as children of affluent families that can afford private tutors will have a big edge over their less fortunate peers. So there is a need to reform the score-oriented education system.
Also, the policy has forced many cram schools to downsize, with some going bankrupt or being on the verge of bankruptcy. The transformation will be hard, but the industry can find salvation by changing the nature of its services and helping children develop into better human beings.
Chu Zhaohui, a senior researcher at the National Institute of Education Sciences
Both mental and physical health of kids important
Despite being widely welcomed, the "double reduction" policy has also raised some concerns. For example, Beijing has decided to rotate teachers and principals among schools to improve the teaching quality and promote balanced distribution of education resources.
Although the teacher rotation policy has helped narrow the learning gap among school students in some developed countries, the move has been opposed by many in China, reflecting how difficult it is to implement education reform. Opponents argue that the policy will lead to a decline in the quality of instruction in all public schools, and therefore we should continue with the existing policy that prioritizes top schools over low-performing ones.
Local governments have the responsibility to improve the teaching quality in, and ensure balanced distribution of education resources among, schools so that no child is left behind in the education race. The teacher rotation policy will alleviate parents' anxiety because, by teaching in different schools, the teachers can promote fairer education.
Some parents are also worried that reduced school work might lower their children's knowledge level. Yet the huge burden of homework in the past, mostly dull and repetitive work, had the opposite effect on the students-it made them less interested in enhancing their knowledge.
The Ministry of Education's ban on written tests and homework for first and second graders is a good start in promoting quality education. The ban requires educators and parents to pay greater attention to both the mental and physical health of their children so they grow up to be better human beings in all respects.

Xiong Bingqi, head of the 21st Century Education Research Institute
The views don't necessarily reflect those of China Daily.
If you have a specific expertise, or would like to share your thought about our stories, then send us your writings at opinion@chinadaily.com.cn, and comment@chinadaily.com.cn.
---